Congratulations to The University of Tokyo team for winning 1st prize at the IHL Role Play Asia Regional Round
RCSPお知らせ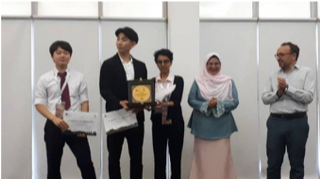 ---
On 16-17 November, International Humanitarian Law (IHL) Role Play Competition's Asia Regional Round was held at Malaysian National University (UKM). The University of Tokyo team (coach: Dr. Ai Kihara-Hunt, members: Ms. Amishi Agrawal, Mr. Paul Hwa Namkoong, Mr. Issa Shiraishi) joined the competition representing Japan. They won the Japan National Round in September.
In this competition, teams representing different countries in Asia competed for their knowledge and understanding of IHL, playing various roles in given scenarios. Some scenarios were on detention, the condition of IDPs, protected persons, and others on the means and methods of war. Fictional situations even extended to UN actions and coordination between agencies and offices.
After general rounds, teams were selected for semi-finals, then finals.
At the end of it all, The University of Tokyo team won the first prize!
Professor Kihara-Hunt explained, "the team had no knowledge of international law when I started my class on IHL in April. We selected the team members and observers after 10 classes, and practiced further with the selected team".
Congratulations, team! The next step is the Jean Pictet competition in February/March 2020 as the winner of the Asia Regional Round.
All the best of luck to the team, we will practice further.
Thank you very much for all those who made this possible.