【Event Info:6/18(Thu)- zoom available】Arbitration and Mediation: To improve commercial disputes processing by Vietnam and Japan
RCSPNews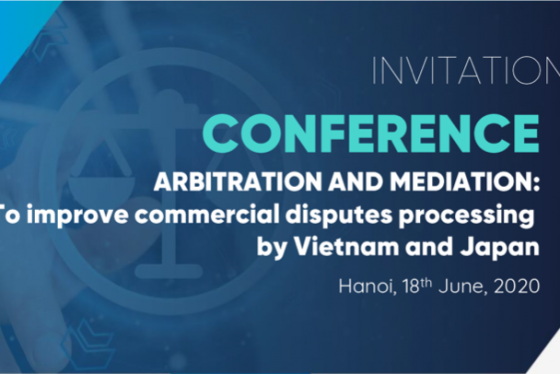 ---
Japan is currently the third largest import and export market of Vietnam. Good political relations, the cultural understanding and harmony between the people of the two countries have been being a solid foundation for the positive and sustainable growth of trade relations between Vietnam and Japan. The year 2020 is expected to be a year of outstanding development of relations between Japan and Vietnam, unfortunately trade between the two nations has been facing great difficulties from the COVID 19 pandemic. Due to the epidemic, goods and human transport are obstructed or even shut down, critically damaging trade activities.
Vietnam has now well controlled its epidemic in the country and has begun to re establish the "new normal" state for economic development; however, commercial transactions are still significantly affected by COVID 19 disruption of supply chains and consumption chains lead to unfulfillment of contractual obligations or unreasonably high costs of implementation, exposing many businesses to legal risks (breach of contracts) that might result in disputes and unwanted lawsuits. With the aim of furnishing Vietnamese and Japanese enterprises with suitable alternative dispute resolution options to assist the sustainable growth of trade relations, Vietnam International Arbitration Center (VIAC) and Research Center for Sustainable Peace, The University of Tokyo as co organizes the Conference on Commercial Arbitration and Commercial Mediation To improve the dispute processing by Vietnam and Japan. Details about the event are as follows:
Time: 7:30 am – 11:30 am (Vietnam time), Thursday 18 June 2020
*webiner will be started on 8:00am (Vietnam time).
Venue: Hall Room No 1 – Floor 7, VCCI Building, 9 Dao Duy Anh, Dong Da, Hanoi
Video conference via Zoom platform (Webinar ID 950 6136 9820 – Password 123456)
Registration:
◆Register in advance to join the offline seminar at VIAC's office in Hanoi;
please email to sukien.viac@gmail.com
◆Register in advance for this webinar:
https://zoom.us/webinar/register/WN_hyMAeyEWTgOldVOyrwnNQQ

After registering, you will receive a confirmation email containing information about joining the webinar.
Or using:
Webinar ID: 950 6136 9820
Webinar password: 123456
to join the webinar directly.
*Admission charge: free
*Language: Vietnamese and Japanese; simultaneous interpretation is available
Program Overview:
【Session 1: Available out-court mechanisms of resolution for commercial disputes in Japan and Vietnam – Legislation and Practical views】
Speaker: Mr. Nguyen Manh Dzung(Arbitrator, VIAC)and others.
【Session 2: What are best fit for Japan-Vietnam commercial disputes? Expert's advices on how to practically improve the enforcing contracts in Vietnam?】
Speaker: Mr. Phan Trong Dat(Deputy General Secretary, Vietnam International Arbitration Centre, Deputy Director, Vietnam Mediation Centre of Vietnam International Arbitration Centre)and others.
【Session 3: Discussing the Initiative on creating a Network Group on Vietnam-Japan Commercial Disputes (Mediation-Arbitration) under the Japan-Vietnam Economic Partnership Agreement (EPA) and Strategic Partnership】
Speaker: Professor Yasunobu Sato (Director of RCSP of the University of Tokyo, Japan) and others.
Event details, including speakers' info and workshop agenda:
▶English ver.
▶Japanese ver.
▶Vietnamese ver.
※Related to this seminar, please refer to the following report of the seminar "International Arbitration and Rule of Law For Sustainable Market", held on August 4th, 2017, at Vietnam Japan University (VJU), co-sponsored by Research Center for Sustainable Peace (RCSP) and Vietnam Japan University.
http://cdr.c.u-tokyo.ac.jp/RCSP/en/topics/460.html
---
Co-organized by:
Research Center for Sustainable Peace (RCSP), Institute of Advanced Global Studies (IAGS), The University of Tokyo
Vietnam International Arbitration Center (VIAC)
Supported by:
Embassy of Japan in Vietnam, Japan Trade Promotion Organization in Hanoi (JETRO), Japan Chamber of Commerce and Industry (JCCI), Japan International Cooperation Agency in Hanoi (JICA Hanoi), VNU Vietnam Japan University (VJU), Japan Commercial Arbitration Association (JCAA), Japan International Dispute Resolution Center (JIDRC), Japan International Mediation Center (JIMC), Ministry of Justice of Japan, Study of Network Governance for Access to Justice in East Asia (Grant-in-Aid for Scientific Research (A) )